Home
>
Lighting Application
> Spiral Compact Fluorescent Bulbs For Warehouse Lighting
Spiral Compact Fluorescent Bulbs For Warehouse Lighting
Great potential for operating cost savings are hiding in many warehouses! Warehouse lighting can be upgraded to more efficient, longer lasting products with more consistent light levels over time.

The most important, and sometimes difficult, surface to be illuminated is the vertical surface in warehouses. Adequate lights is required for safety sake, but must also evenly fall about the vertical face of shelved material to avoid scalloping. Warehouses can employ lighting sources emitting true white color to ensure proper illumination.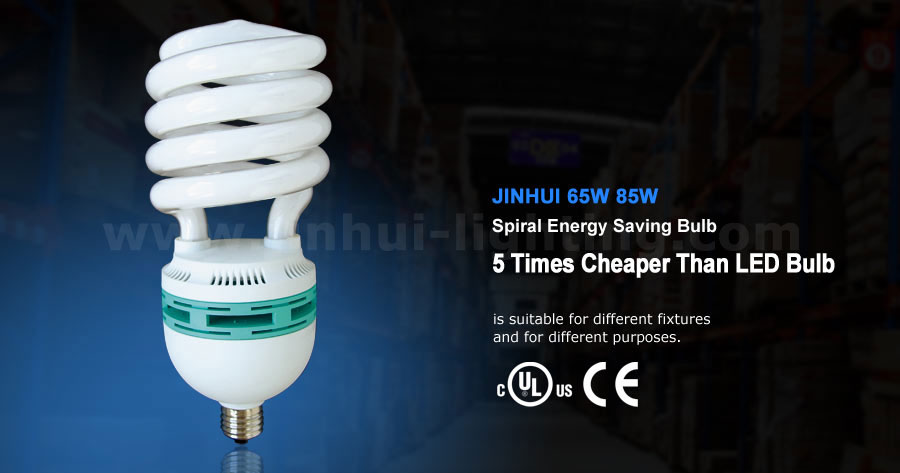 Key point:
High brightness
Long lifespan
Energy saving
How many compact fluorescent bulbs do you need for your warehouse?
| | | |
| --- | --- | --- |
| Room Height | Wattage of Bulb | Distance of Bulb |
| 3 meters | 13w,15w | 1 meter each |
| 5 meters | 20w, 25w | 1.5 meter each |
| 8 meters | 35w, 45w, 50w | 2 meter each |
| 10 meters | 65w, 85w, 105w | 3 meter each |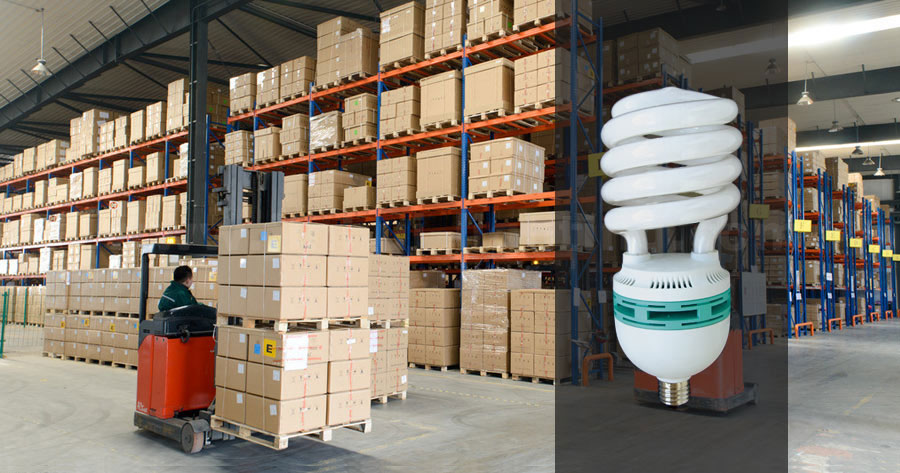 85W compact fluorescent bulb, with CUL /CE listed, with 71lm/w, 6000lm output, long lifespan 8000-10000hours, economic price (LED industial bulb is 5 times higher than 85W compact fluorescent bulb in 2016), E39, E40, E27 available.

So, 85W spiral CFL is very suitable for warehouse and supermarkets, as a industrial bulb.
Before make a choice for CFB or LED bulb. Let's make an basic analysis table for the advantage of these two kinds of bulbs.
Compact Fluorescent Bulb
LED Bulb
Price for power > 11w
20%- 300% cheaper than LED bulb
Price for power < 11w
with similar price as CFB
8-10 times of incandescent bulb
20-30 times of incandescent bulb
Save 80% than incandescent bulb
Save 90% than incandescent bulb
Lumen Efficiency 60lm/w
Lumen Efficiency 80lm/w or more
Emit Light is soft and brightness
Emit Light is strong if without cover
Small amount of mercury
Mercury free
Maximum 150w
Maximum 500w up to now
Heating inside < 60 degree
Heating inside > 90 degree
35 years worldwide using
10 years new using
No dimmable
Dimmable
Glass materials
PC or AL
From above table, we could make some suggestion when selecting the bulb, > 11w items, to use CFB is still more suitable than LED bulb, 85W is the best balance point.
The following lighting sources are available for warehouse
Part A: Energy Saving Lamps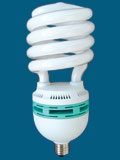 The compact fluorescent bulb consists of a high performance electronic ballast and a trichromatic fluorescent lamp. The whole unit is compact and simple in construction and highly effective in light emitting, with soft light, excellent chromaticness and low heat-emission. Moreover, it can be instantly started even at a comparatively low temperature or voltage.
Available for the following fixtures:
Ceiling Lamps: T Tube, Circle.
Wall Sconces: Bulb, Candle, Global, U Style, Spiral and Column, Flower.
PART B: LED Lights
The LED light series provide good light distribution, soft and flattering, yet bright enough for applying writing, reading and so on. The LED lighting application is very popular.
Before you buy the lights for the right application, please think about the factors:
Select the proper power which will fit in your room or space.

Select the right shape and size which will fit in your light fixture.

Select the proper color or color temperature in between the 2700K and 6400K labeled packages.

Select the right base for your fixture.

Select ENERGY STAR® lights for reliability.

Do not use CFLs in recessed and enclosed fixtures
Recessed light fixtures and fixtures that are completely enclosed (no air flow) are more likely to cause early failure for most CFLs. The additional heat generated by the compact fluorescent bulb in the enclosed fixture is too much for the ballast that is integrated into the base of the bulb. Although the CFL will operate in these fixtures, the life of the bulb will be shortened substantially from its rated life.
| | |
| --- | --- |
| Application For Home Lighting | Application For Business Lighting |