Home
>
Lighting Application
> Spiral Energy Saving Lamps For Living Room Lighting
Spiral Energy Saving Lamps For Living Room Lighting
The first step when lighting your living room is to ask yourself: what happens here? Different activities require different types and levels of light. A well-lit living room will have three different types of lighting: general, task and accent. These are used at different times of day and for different purposes, and key to a functional lighting scheme it to know how and when to mix and use them.
How many energy saving lamps or bulbs do you need for your living room?
| | | |
| --- | --- | --- |
| Room Height | Wattage of Bulb | Distance of Bulb |
| 3 meters | 9w,11w | 1 meter each |
| 5 meters | 15w, 25w | 1.5 meter each |
| 8 meters | 30w, 45w | 2 meter each |
| 10 meters | 65w,85w, 105w | 3 meter each |
A good living room lighting scheme uses different kinds of light, set at different levels, that work together to make the space warm, friendly and attractive.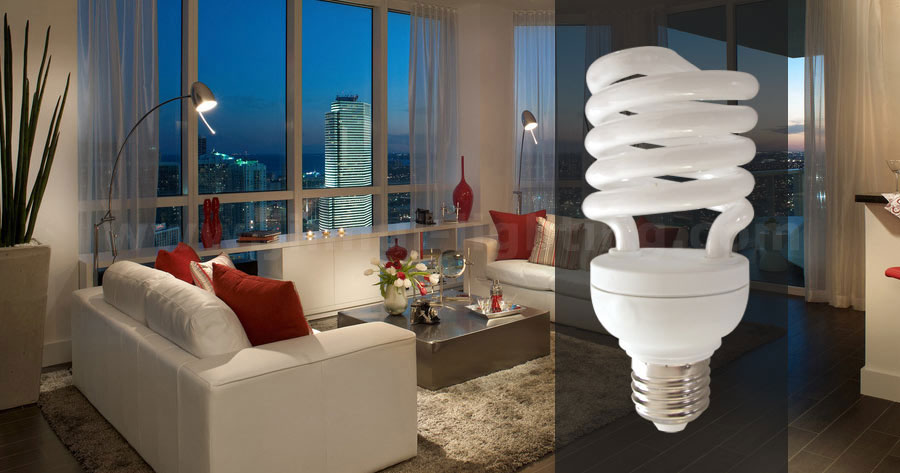 Of all the rooms in your home, your living room is where you spend the most time with your family and friends. This room can be made more inviting, comfortable and functional when you choose lighting styles that enhance your personal style. With the various activities that occur here, you want to have a variety of light sources.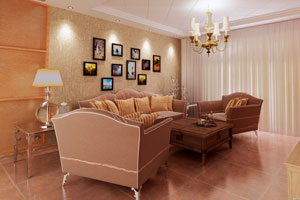 Standard bulb lighting heightens colour contrast and vibrancy, and is calming, cheerful and natural to the eye.
Not all homes have a ceiling fitting in the living room, and if you have lots of natural light during the day, you might not need overhead light at all. But if you have the fitting, a central pendant or chandelier helps to zone the space and create a focus. Similarly, potlights or angled spotlights will create a even layer of overhead lighting. In the absence of any overhead lights, a large, arced floor lamp will do the trick.

If you watch TV in the living room, choose the surrounding lights carefully to avoid television glare. It can be distracting to have a bright overhead light above or in front of a TV set, so ensure ceiling lights are dimmable, or use offset wall sconces or floor lamps instead.

The following lighting sources are available for living room
Take advantage of the newer, more energy-efficient lighting solutions for residential use, suggests Jinhui energy saving lamps.
Part A: Energy Saving Lamps
The compact fluorescent bulb consists of a high performance electronic ballast and a trichromatic fluorescent lamp. The whole unit is compact and simple in construction and highly effective in light emitting, with soft light, excellent chromaticness and low heat-emission. Moreover, it can be instantly started even at a comparatively low temperature or voltage.

Top Selling Spiral Energy Saving Lamps (Spiral ESL) For Living Room Lighting
Available for the following fixtures:
Table Lamps: Bulb, Candle, Mini Global, Mini U Style, Spiral and Column, Mini Flower.
Floor Lamps: Bulb, Candle, Global, U Style, Spiral and Column, Circle, Mini Flower.
Pendants: Bulb, Candle, Mini Global, Mini U Style, Spiral, Mini Flower.
Ceiling Lamps: T Tube, Circle.
Wall Sconces: Bulb, Candle, Global, U Style, Spiral and Column, Flower.
PART B: LED Lights
The LED light series provide good light distribution, soft and flattering, yet bright enough for applying writing, reading and so on. The LED lighting application is very popular.
Before you buy the lights for the right application, please think about the factors:
Select the proper power which will fit in your room or space.

Select the right shape and size which will fit in your light fixture.

Select the proper color or color temperature in between the 2700K and 6400K labeled packages.

Select the right base for your fixture.

Select ENERGY STAR® lights for reliability.

Do not use CFLs in recessed and enclosed fixtures
Recessed light fixtures and fixtures that are completely enclosed (no air flow) are more likely to cause early failure for most CFLs. The additional heat generated by the compact fluorescent bulb in the enclosed fixture is too much for the ballast that is integrated into the base of the bulb. Although the CFL will operate in these fixtures, the life of the bulb will be shortened substantially from its rated life.
| | |
| --- | --- |
| Application For Home Lighting | Application For Business Lighting |