Home
>
Products
>
LED Lights
Led Energy Saving Lamp
3.5W-25W, 85-265V, 2700K-6400K, ESL Shape
Jinhui wholesales Led Energy Saving Lamp from China, Just 200 pieces get wholesale price, right now.

LED Energy Saving Lamp with same PCB+TUBE shape as the traditional compact fluorescent light bulb, LED ESL emits 100lm/w high lumen efficiency, it saves further 50% energy than normal CFLs, it is ideal products for replace the energy saving lamps, with huge demands from the global markets, like US, Brazil, Russia, Europe, Middle east, and Latin America …

Character:
It works AC 85V ~ 265V wide voltage.
Variety of LED color properties, new classical design.
Long lifespan 25,000 hours, mercury free, Rohs.
15W LED ESL =25W CFL = 125W incandescent bulb
Output 300,000pcs per day.
OEM for wholesales and importers, ODM for supermarkets Home depot, Walmart, Amzon…
FCC, CUL, SAA,PSE, SAA,CE,GS, ROHS, SASO,VDE,NOM, ISO90001.

Application:

Widely used in museum, shop, restaurant, hotel, meeting hall, bar, showcase,showroom and other place decoration, etc.

Warnings & Cautions: No dimmable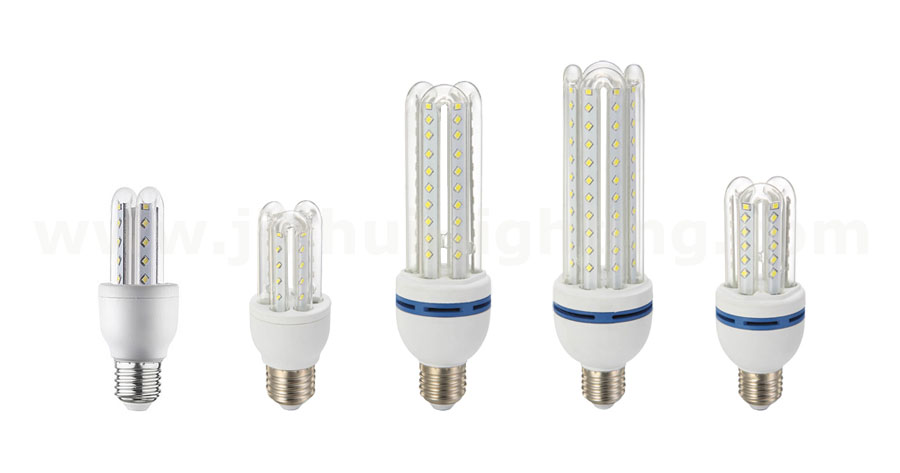 ---
Item: YB1001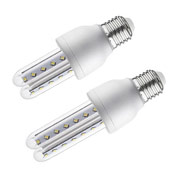 Product Name: 2U Shape LED Energy Saving Lamp
Options: 7W, 11W
Supply Voltage: 85-265V/50-60Hz
Color Temp(K): 2700K ~ 6400K Red/Blue/Green
Base Type: E27, B22, E26, E14
Material: Aluminium
Specifications:
New unique design
Efficient lighting, replace compact fluorescent bulb
75% energy saving compared with fluorescent tube
Less replacement to save maintenance cost
Standard IEC size, Standard lamp holder, compatible with electronic transformer
Aluminum die-casting housing wrapped by thermal plastic and plastic cover
Constant current driver
---
Item: YB1002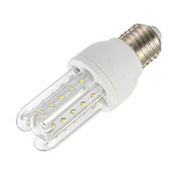 Product Name: Mini 3U Shaped LED Energy Saving Lamp
Options: 3.5W
Supply Voltage: 85-265V/50-60Hz
Color Temp(K): 2700K ~ 6400K Red/Blue/Green
Base Type: E27, B22, E26, E14
Material: Aluminium
Specifications:
New unique design
Efficient lighting, replace compact fluorescent bulb
75% energy saving compared with fluorescent tube
Less replacement to save maintenance cost
Standard IEC size, Standard lamp holder, compatible with electronic transformer
Aluminum die-casting housing wrapped by thermal plastic and plastic cover
Constant current driver
---
Item: YB1003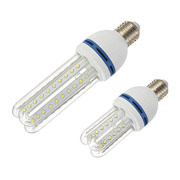 Product Name: 3U LED Energy Saving Lamp
Options: 5W, 7W, 13W, 15W, 20W
Supply Voltage: 85-265V/50-60Hz
Color Temp(K): 2700K ~ 6400K Red/Blue/Green
Base Type: E27, B22, E26, E14
Material: Aluminium
Specifications:
New unique design
Efficient lighting, replace compact fluorescent bulb
75% energy saving compared with fluorescent tube
Less replacement to save maintenance cost
Standard IEC size, Standard lamp holder, compatible with electronic transformer
Aluminum die-casting housing wrapped by thermal plastic and plastic cover
Constant current driver
---
Item: YB1004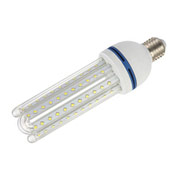 Product Name: 4U LED Energy Saving Lamp
Options: 13W, 15W, 20W, 25W
Supply Voltage: 85-265V/50-60Hz
Color Temp(K): 2700K ~ 6400K Red/Blue/Green
Base Type: E27, B22, E26, E14
Material: Aluminium
Specifications:
New unique design
Efficient lighting, replace compact fluorescent bulb
75% energy saving compared with fluorescent tube
Less replacement to save maintenance cost
Standard IEC size, Standard lamp holder, compatible with electronic transformer
Aluminum die-casting housing wrapped by thermal plastic and plastic cover
Constant current driver
---
Item: YB1005 2U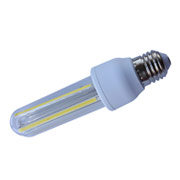 Product Name: CE UL 2U LED Energy Saving Lamp
Options: 6W
Supply Voltage: 85-265V/50-60Hz
Color Temp(K): 2700K ~ 6400K Red/Blue/Green
Base Type: E14 E26 E27 B22
Material: Aluminium
Specifications:
COB ESL LED lamp
New unique design
Efficient lighting, replace compact fluorescent bulb
75% energy saving compared with fluorescent tube
Less replacement to save maintenance cost
Standard IEC size, Standard lamp holder, compatible with electronic transformer
Aluminum die-casting housing wrapped by thermal plastic and plastic cover
Constant current driver
---
Item: YB1005 3U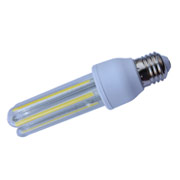 Product Name: CE UL 3U LED Energy Saving Lamp
Options: 8W 12W
Supply Voltage: 85-265V/50-60Hz
Color Temp(K): 2700K ~ 6400K Red/Blue/Green
Base Type: E14 E26 E27 B22
Material: Aluminium
Specifications:
COB ESL LED lamp
New unique design
Efficient lighting, replace compact fluorescent bulb
75% energy saving compared with fluorescent tube
Less replacement to save maintenance cost
Standard IEC size, Standard lamp holder, compatible with electronic transformer
Aluminum die-casting housing wrapped by thermal plastic and plastic cover
Constant current driver
---
Item: YB1005 4U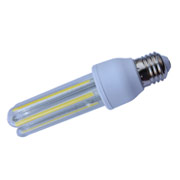 Product Name: CE UL 4U LED Energy Saving Lamp
Options: 16W 202W
Supply Voltage: 85-265V/50-60Hz
Color Temp(K): 2700K ~ 6400K Red/Blue/Green
Base Type: E14 E26 E27 B22
Material: Aluminium
Specifications:
COB ESL LED lamp
New unique design
Efficient lighting, replace compact fluorescent bulb
75% energy saving compared with fluorescent tube
Less replacement to save maintenance cost
Standard IEC size, Standard lamp holder, compatible with electronic transformer
Aluminum die-casting housing wrapped by thermal plastic and plastic cover
Constant current driver