Home
>
Lighting Application
> 2U Energy Saving Bulbs For Dining Room Lighting
2U Energy Saving Bulbs For Dining Room Lighting
Open up the front door of most homes and you'll be greeted with a view of the dining area. Whether your dining room serves as an everyday eating area for your family or is reserved for occasional formal entertaining, excellent dining room lighting adds depth and character, enhances the overall mood and brings out the dramatic colors and textures of the space.
Consider using two small recessed downlights in combination with a chandelier glowing in a dimmed mode. The downlights should be placed on each side of the chandelier, at a distance of about 18 from the fixture. Circuit the downlights and chandelier separately to maximize lighting flexibility.

Elegant or informal, you can illuminate your dining room to create a more gracious atmosphere or a more relaxed mood. You can select the lighting style that accents the unique personality and door of your Dining Room.
Key Points:
Decorative
High brightness
Cleaning
Warm and sweet

How many energy saving bulbs do you need for your dining room?
| | | |
| --- | --- | --- |
| Room Height | Wattage of Bulb | Distance of Bulb |
| 3 meters | 13w,15w | 1 meter each |
| 5 meters | 20w, 25w | 1.5 meter each |
| 8 meters | 30w, 45w, 50w | 2 meter each |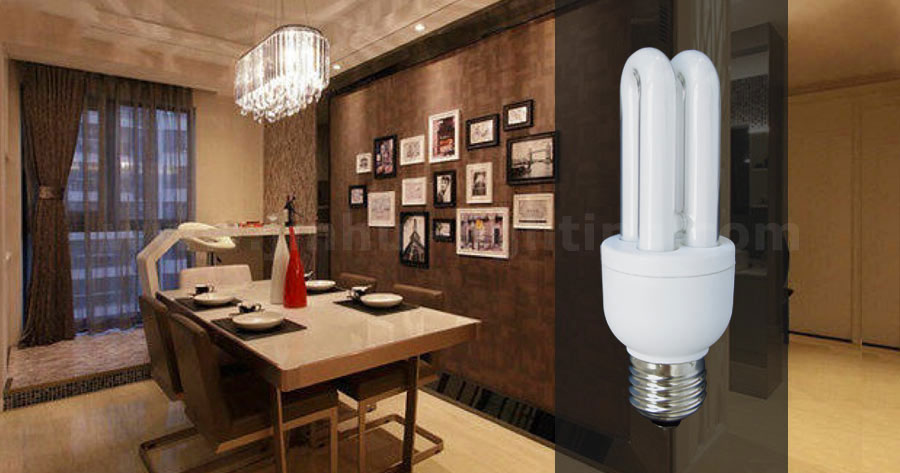 Accent Lighting

Accent lighting adds drama to your dining room by adding visual interest. Whether spotlighting sculpture, houseplants, or other decorative items with recessed downlights or highlighting a painting or photograph with a picture light, well-placed accent lighting will further enhance an attractive dining room.

Indirect Lighting

Indirect lighting provides soft, appealing, glare-free illumination that improves the mood in a space. Provide pleasant and effective indirect lighting in coves, soffits and other concealed locations.

The following lighting sources are available for dining room
Part A: Energy Saving Bulbs
The compact fluorescent bulb consists of a high performance electronic ballast and a trichromatic fluorescent lamp. The whole unit is compact and simple in construction and highly effective in light emitting, with soft light, excellent chromaticness and low heat-emission. Moreover, it can be instantly started even at a comparatively low temperature or voltage.
Available for the following fixtures:
Table Lamps: Bulb, Candle, Mini Global, Mini U Style, Spiral and Column, Mini Flower.
Floor Lamps: Bulb, Candle, Global, U Style, Spiral and Column, Circle, Mini Flower.
Pendants: Bulb, Candle, Mini Global, Mini U Style, Spiral, Mini Flower.
Ceiling Lamps: T Tube, Circle.
Wall Sconces: Bulb, Candle, Global, U Style, Spiral and Column, Flower.


Top Selling 2U Energy Saving Bulbs For Dining Room Lighting
PART B: LED Lights
The LED light series provide good light distribution, soft and flattering, yet bright enough for applying writing, reading and so on. The LED lighting application is very popular.
Before you buy the lights for the right application, please think about the factors:
Select the proper power which will fit in your room or space.

Select the right shape and size which will fit in your light fixture.

Select the proper color or color temperature in between the 2700K and 6400K labeled packages.

Select the right base for your fixture.

Select ENERGY STAR® lights for reliability.

Do not use CFLs in recessed and enclosed fixtures
Recessed light fixtures and fixtures that are completely enclosed (no air flow) are more likely to cause early failure for most CFLs. The additional heat generated by the compact fluorescent bulb in the enclosed fixture is too much for the ballast that is integrated into the base of the bulb. Although the CFL will operate in these fixtures, the life of the bulb will be shortened substantially from its rated life.
| | |
| --- | --- |
| Application For Home Lighting | Application For Business Lighting |